AIS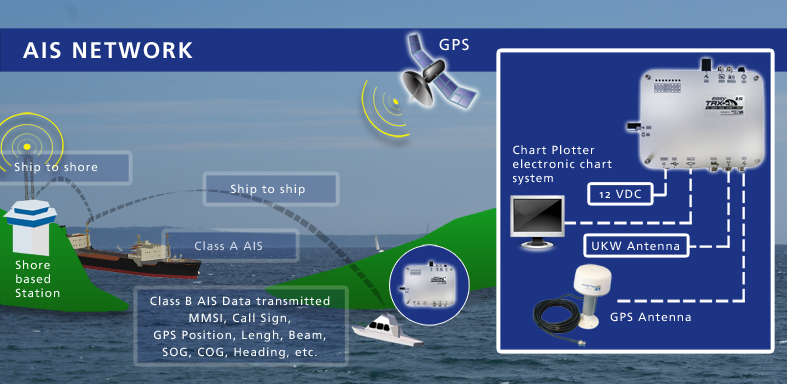 Automatic Identification System
STANDARD AIS
AIS Data

Dynamic Reports
Static Reports

AIS Presentation
AIS Messaging

Safety Related Messages
Assign Report Rate
Interrogation
SECURE AIS
Outstanding technical solution with secure communication on a dedicated channel
No negative impact on the normal AIS traffic, which is a problem with systems using standard binary messages
No limitations on the throughput of data – the utilization of the available bandwidth is fully user controlled
The secure functionality is embedded in the mobile AIS transponder products, no external application required
Support for the secure solution is available for all AIS products, including mobile transponders, base stations, network and presentation systems
MOBILE UNITS VIA SECURE AIS
A significant amount of commercial vessels are now equipped with AIS transponders
Qualified operators may want to receive open AIS data but may not want to expose themselves to other AIS users
Open and encrypted information in one system – "See without being seen"
Low cost "IFF functionality"
Offers a two way data link for generic data communication, e.g. transfer of target list or mission data
AIRBORNE AIS
Main Features
Full transceiver functionality, the transmission capability makes it possible to interrogate specific vessels.
Selectable level of AIS operational mode (Autonomous transmission, User initiated transmission or Receive only)
ARINC 429 interface for TSO approved GPS.
Embedded DSC support for reception and transmission of any DSC symbols.
Easy configuration and status check by Windows based configuration software.
Applications
Search and Rescue (SAR); locate vessels in distress and communicate with them while help is on the way.
Monitoring of Surface Traffic; to be able to keep track of AIS equipped vessels and their destinations.
Maritime Surveillance/Coast Guard Patrol; together with radar systems, naval authorities can find vessels without AIS or with faulty AIS parameters, thus increasing security.
Fleet Management; to keep track of a fleet of helicopters.
Mission Control and Coordination; supports SAR and military operations involving several helicopters and vessels.