ATM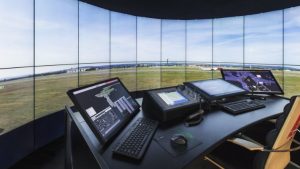 ATM System

The ATM System supports Air Traffic Control operations for En-route (ACC), Approach (APP) and Tower (TWR).

Full functionalities in conformity with Single European Sky (SES) regulation.
The ATM System is designed and proven to be flexible and configurable for any size of ATC and easily expandable in size and functionality.
It is redundant and fault tolerant, life-cycle cost effective and highly adaptable.
SESAR ATM Functionality Compliance. In line with Single European Sky (SES) Interoperability (IOP) Regulations EC 550/2004, 552/2004, 1070/2009 and 716/2014, to prepare European ATM system for network operations, the ATM System is compliant with the SESAR functionality of the Pilot Common Project (PCP), which shall be in operation throughout European airspace by 2025.
Flight Plan Data Management. Flight Data Assistants (FDA) have an efficient HMI to support editing, browsing, queue handling with support for complex search criteria.
Controller functions. The ATM System supports ACC, APP and TWR operations. The Controller HMI is window driven and suitable for one or two monitor configurations. Controller interaction with flights is performed through labels and electronic strips. The HMI is specially designed for a paperless environment. Only required data is presented. Additional information is very easy to retrieve.
OVERVIEW
The ATM System has the following functions:
○ True (centralized) multi sensor tracking; SDPS Radar, MLAT, ADS-B fusion
○ Fully automatic flight plan data processing with route analysis and trajectory prediction
○ 4D Trajectory Management for Trajectory Based Operations
○ Paperless controller HMI
○ On Line Data Interchange, OLDI
○ Recording and playback
○ System monitoring and control with SNMP
○Medium term conflict detection, MTCD
○ Integrated Arrival manager, AMAN
○ Datalink with aircraft FMS, CPDLC
○ Technically advanced fault tolerant solutions built upon several levels of redundancy
○ Safety nets, with STCA, MSAW, APW and APM
○ Monitoring aids with conformance monitoring and reminder handling
○ Integration with A-SMGCS and airport FIDS systems
○ Provision of departure clearance delivery by means of data link
○ System Monitoring and control; SNMP
○ Strip printing functions on request
Consoles and Displays

The future of consoles. The consoles are the ultimate solution for the next control rooms. From enhanced monitor mounting options to ergonomic nosing and frame design, They enable optimal efficiency for ATCO operators..
Unmatched Agility. From full cabinet enclosures to fully open concept, the consoles can accommodate local or remote CPUs with ease. And with the modular design can be configured individually, in rows, clusters or collaborative groups. Customers can choose from two, three and four-leg options providing complete design freedom to optimize the available space.
Optimized Performance Design freedom available when considering the work surface needs. Options of single or dual surfaces, two lift column systems ranging from a load capacity of 1200N up to 2500N per lift column, assure the best value-based performance on the market. The console system can manage even the most rigorous monitor array requirements based on the power of integrated large screen displays.
Superior Cable Management. The cable management system enablies the ATCO to work in a clutter-free space. It utilizes a wider and deeper technology bridge to run more cables in a completely organized manner and full front and rear access makes adding or changing cabling quick and easy
Fit and Finish Options. The consoles meet any performance and design aesthetic requirements. With a wide choice of fit and finishes available the consoles provide the freedom to optimize the space. The choices are like high pressure laminate, compact laminate, stainless steel, solid surface, glass, and engineered stone.
Personalized Controls. Adding personalized controls like temperature and situational awareness provides the ATCO with the ultimate working conditions.
  Features:
Enhanced cable access and capacity
Robust open frame
Optimized frame design for efficient installation
Integrated large screen display capabilities
Wide array of fit and finish options
Endless configuration options and layout flexibility
Personalized controls like temperature control and situational awareness lighting
Control working positions

Providing controllers with display of the real time air traffic situation by means of system tracks coming from Multi Radar Tracking System.
Tracks presented on HMI comprise track data as position symbols, historical dots, prediction lines and labels with available information.
HMI have other functions such as maps, zoom, off-center, various filters, vectors, QNH setting.
HMI is build based upon modern ATC principles, besides touch pen controllers will use mouse and keyboard for interaction with the HMI main functions.
Capability of Mode-S, PSR, MSSR, ADS-B, WAM track processing and display.
Built in Software application has been tested operationally in different environments over many years.
HMI is designed for 24/7 continuous operation and has built in functions for error correction and protections against non-availability.
Software consists of a number of independent processes which can be started and restarted in any order and if a process fails the node supervisor will automatically restart it and the data will be refreshed throughout the HMI.
HMI is capable to handle at least 1000 simultaneous system tracks per second
Controller Working Positions includes hardware such as:

Workstation
Dual Port Network Interface
Display 28" 2k x 2k or 4kx2k

Fully complying with ICAO Annex 10 up to the latest Amendment.
Tower Simulators

Total solution suitable for all kind of Tower ATC training requirements using the latest technology and delivering attractive performance.
Providing a plan view of the airfield and the associated hold points, stop bars and stands. Accurately mapping the ground movements of aircraft and vehicles along the taxiways, aprons and runways.
Integration of tower simulation software with the latest image generators, visualization software and display systems providing 3D and 2D tower simulations as per customer needs.
High number of animated aircraft and vehicle models.
Realistic airfield 3D scenes and aircraft behavior
3D visuals support multiple tower viewpoints, binoculars, aircraft tracking and free navigation options
Customized displays for lighting control including runway and taxiway lights, stop bars, traffic lights and arrester barriers
Run recording, and replay facilities.
Civil and military aircraft performance
Emergencies (fire, smoke, explosions, runway overrun, undercarriage)
Possibility for flexible configuration and workstation role selection
Powerful pseudo-pilot commands for air and ground operations with graphical inputs
ATC speech recognition and output with user customization of accents, real names and phrases
Radar Simulators

Suitable for all types of area and approach Air Traffic Controllers training.
Different surveillance display types available, from the basic primary display through to the advanced display supporting Flight Data Processing and OLDI messaging between sectors, flight coordination and handover procedures.
Simulator Flexibility allows user to design exercises supporting differing levels of training from initial through rating and validation, conversion, refresher.
Possibility for customization and choice of controller HMIs
Flexible workstation configuration and role selection
Multiple, simultaneous exercises with powerful scripting tools to create easy simulation of special procedures
Wide choice of displays in order to meet different training needs
Flight Data Processing (FDP) supporting handover procedures and detection of different alert events
ATC speech recognition and output with user customization of accents, real names and phrases
Integrated audio communications and recording with synchronized playback
Package of data preparation programs including visualization tools
AIP/AIS Solutions

Collaborative document management system specially designed for aeronautical information publications
Supports documents in other formats, including Docbook and Simplified Docbook, which can be used for virtually any document
Binary files and documents in proprietary formats as well as graphical files can also be managed.
Key Features:

Easy to use and easy to learn web interface
Sophisticated XML mind XML Editor for document edition
Document repository with version control
Separation of content and style
Workflows
Work Packages
Concurrent editing and conflict resolution
Automatic highlighting of changes
Publication in various output formats, such as PDF and HTML
User authentication

Special capabilities for AIP editing

Creation and modification of AIPs,
Generation of AIRAC & Non-AIRAC AIP Amendments, AIRAC & Non-AIRAC Supplements, AIC, and checklist for Supplements and AICs,
Management of different versions of the AIP documents;
Forms facilitate the document production and support formats specifically designed according to Annex 15, including auto numbering, reporting point symbols, and direction arrows for En-Route tables,
Automated production of certain parts of the AIP.
E-Strip Systems

Fully digital representation of paper flight strips on a PC touch-pen/mouse display
E-Strips workflow same as with paper strips but totally automated.
Possibility to tailor e-strips workflow for Tower applications where the strip can be moved through a number of CWP with a single action.
Open and modular architecture
Extensive configurable HMI.
Supported Strip Types: IFR / VFR Departure, IFR / VFR Arrival, Local, Over flight, Vehicle, Info strip, User defined
Accepts flight plan data from FDPS, AFTN, strip printer or arbitrary interfaces defined by the customer.
Interface to AIS
Flexible, dynamic assignment of CWP roles
Recording and Replay
Supports unlimited number of display stations (CWPs) with different configuration rules.
Runs on any UNIX/LINUX or Microsoft Windows (TM) platform