NAVAIDS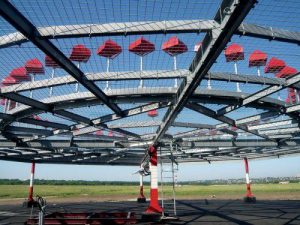 The provided VOR is one of the most advanced solid-state NAVAID systems in the industry today, ensuring top performance, safety and reliability
Overview
VHF Omni-Directional Range (VOR) is the international standard for high reliability in en-route navigation and approach systems.
Available in Doppler, Conventional, mobile and transportable configurations,
Remote maintenance monitoring and control, automatic VSWR and ground check features, and built-in test equipment (BITE).
Provides advanced state-of-the-art performance, highly dependable operation and ease of maintenance.
Complies with U.S. FCC certification requirements, carries the European CE Mark, and meets or exceeds ICAO Annex 10 recommendations.
Dual and single equipment configurations
Comprehensive graphical based PMDT and RMM – Automatic fault diagnostics – Remote monitor certification – On-screen bearing error graphing
Configuration/control – Monitoring and recording
Dual independent monitorin

DME

Ensures ANSP the flexibility to meet their requirements with highly reliable operation, advanced remote maintenance, monitoring and control, and comprehensive remote diagnostics.
Available in hybrid, low and high power, both the low power model 100 W, and the high power 1,000 W able to work in the most challenging terrain and environmental conditions.
Available in single and dual equipment configurations enabling high reliability and maintainability and low life cycle costs.
Additional features include transmitter capability for operating in main or standby mode, fault diagnostics, trend analysis, dual independent monitoring, traffic load monitoring, and a choice of various antenna options.
Able to interface to any ILS or VOR system available today
Meet or exceed ICAO Annex 10 standards. Software is DO-278 compliant.
Certified for Category I, II and III operation, the Instrument Landing System (ILS) exceeds industry standards for reliability and performance
Overview
Provides Category I, II and III performance in the most versatile and technically advanced system in the industry today.
Available in multiple configurations and with a wide variety of antenna arrays, is field upgradeable from Category I to Categories II and III to meet changing operating conditions.
Provides user-friendly interface, integrates the latest technical features and reduces system component content. Combines ease-of operation and maintenance with increased performance and significantly reduced installation, maintenance and logistics costs, with software designed and qualified to rigorous RTCA DO-178 Level B/278 standards.
                Additional features include:
■ Dual and single equipment configurations
■ Dual and single frequency configurations
■ 8, 14, 16, and 20 element LPD antenna arrays
■ Null reference, capture effect, sideband reference and end-fire glide slope configurations
■ Comprehensive RMM and PMDT (Portable Maintenance Data Terminal)
– Remote certification/control – Automatic fault diagnostics – Monitoring and recording
■ Meets or exceeds ICAO Annex 10 recommendations.