SURVEILLANCE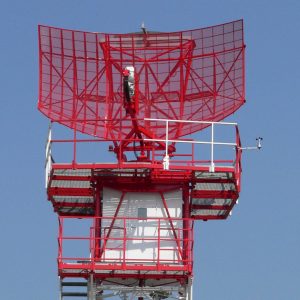 Primary Radars (PSR)


Primary Surveillance Radar (Digital Pulse Compression Technology – 9.5 KW up to 19 KW)
Primary Surveillance Radar system allows Air Traffic Controller to monitor all the aircrafts in the airspace, clearly, simultaneously, and without interference.
PSR can detect and report the position of anything that reflects its transmitted radio signals including, depending on its design, aircrafts, birds, weather and land features. Its targets do not have to co-operate, they only have to be within its coverage bigger than 2 square meters and be able to reflect radio waves.
System Architecture is based on modularity in order to meet advanced requirements of a modern ATC system.
Able to be expanded to meet future capabilities, and any eventual software/hardware upgrade.
Design, material and techniques fulfills highest and latest standards of state of the art technology
All dual channel electronics (Transmitter/Receiver/Extractor),
Change over unit incorporating necessary fault detection circuitry.
Antenna Tower with RADOM (the latest technology of RADOM).
G33 Radar Antenna Group (including antenna base, rotary joint, dual motor drive, dual encoder.
Primary Radar Coverage from 1 up to 220 NM (Nautical Miles).
PSR Probability of target position detection (for a given aircraft within 1 scan): > 90 %
Large plot processing capability
The Equipment's are fully solid-state, based on "state of the art" technology to ensure high reliability and availability.
Provides a high degree of configuration flexibility to meet any system requirements
Corrective maintenance only consists of removal and replacement (plug-out, plug-in) of complete LRUs with few and simple adjustments.
Built-In Test Equipment (BITE) for enhanced failure identification and isolation.
Full Redundancy of critical items
Linear/circular polarization, for optimum target detection in all weather conditions.
Fully solid state and fail-soft modular transmitter for "on line" replacement and reduced maintenance.
COTS and Open system architecture
High reliability
MTBF > 40.000 hours, MTTR < 20 minutes, Availability better than 99,999 %
Censoring Level Map (CLM) to reduce possible false alarms generated in areas where vehicular traffic or very strong clutter are present.
Designed for unmanned operation.
Includes Local and Remote Control Panel
Processing, distribution, transmission of Radar data is done using IP technology end to end.
Flight checks calibration.
Factory and Site Acceptance tests including software integration, installation and customization.
Logistic Package (documentation, spare parts, training).
Fulfills at maximum extent the latest:

EUROCONTROL Standard Document for Radar Surveillance in En-Route and Terminal
EUROCONTROL Standard Document for Radar Sensor Performance Analysis
Content of the European convergence and Implementation Plan, (ECIP) and SES.
ICAO Document 8071 "Manual on the performance testing of ATC Radar Systems"

Secondary (MSSR) Mode-S Radars
Monopulse Secondary Surveillance Radar – Mode S
System Architecture fully based on modularity in order to meet advanced requirements of a modern ATC system.
Able to be expanded to meet future capabilities, and any eventual software and hardware upgrade.
Design, material and techniques fulfills highest and latest standards of state of the art technology
Interrogation capabilities – Mode 1, 2, 3/A, B, C, D, 4, Enhanced Mode-S fully complying with ICAO Annex 10 up to the latest Amendment.
All solid state dual channel electronics (Transmitter/Receiver/Extractor), including local and remote monitoring facilities for the Enhanced MSSR Mode-S Radar.
Change over unit incorporating necessary fault detection circuitry.
Antenna Tower with RADOM (the latest technology of RADOM).
MSSR Radar Antenna Group LVA (including antenna base, rotary joint, dual motor drive, dual encoder and all necessary relevant parts).
Large Vertical Aperture (LVA) Antenna providing Mono-pulse sum and difference channels with an additional Omni-directional control channel, suitable for the SSR Mode S System.
Radar Coverage from 0.5 to 250 NM (Nautical Mile) for a rotation speeds of 12 rpm, using a suitable combination of Mode S enhanced and Monopulse SSR Mode A/C.
The probability of detection is bigger than 99%.
Designed for unmanned operation.
Local and Remote Control Panel
Processing, distribution, transmission of Radar data is done using IP end to end technology.
Flight check calibration
Factory and Site Acceptance tests including software integration, installation and customization.
Logistic Package :documentation, spare parts, training .
Fulfills at maximum extent the latest:

EUROCONTROL Standard Document for Radar Surveillance in En-Route and Terminal
EUROCONTROL Standard Document for Radar Sensor Performance Analysis
ICAO recommendations' on Mode-S operation, Annex 10 (latest recommendations).
Content of the European convergence and Implementation Plan, (ECIP) and SES.
ICAO Document 8071 "Manual on the performance testing of ATC Radar Systems"
THE WAM/ADS-B radio is the core of a full featured ADS-B ground network integrating all equipment in existing telecommunications networks. It provides redundant network outputs for high reliability surveillance solution.
System Description
The ADS-B radio consists of two components: the 1090 radio unit and UAT radio unit. Both units are mountable in a standard 19" rack, operating from -48 VDC power.
The 1090 Radio Unit integrates all communications equipment and a 1, 2, or 4 channel 1090 receiver and 1090/1030 agile transmitter. The 1090 receiver can decode ATCRBS, Mode-S, and ADS-B surveillance replies and squitters, while meeting or exceeding degarbling requirements.
The transmitter supports both generations of TIS-B/ADS-R target uplinks at 1090 MHz and interrogation legacy airborne transponders at 1030 MHz. The 1030 MHz interrogator supports Mode-A, Mode-C, and Mode-S (DF4/5 or DF20/21) interrogations.
The UAT Radio Unit integrates a 1 or 2 channel UAT transceiver with a 1030 MHz receiver. The UAT transceiver operates on the 978 MHz band and receives UAT ADS-B target reports, and generates TIS-B/ADS-R target uplinks and FIS-B uplinks. The 1030 MHz receiver decodes Mode-A, Mode-C, and Mode-S interrogations.
Technical Features
Supports FAA CAT033 and CAT023, as well as EUROCONTROL CAT021, CAT023, and CAT247 surveillance reports on redundant 1 GBit LAN connections
Accepts FAA CAT033 and EUROCONTROL CAT062 target reports for the generation of TIS-B and ADS-R uplinks in either the 1090ES or UAT link formats
Accepts UAT FIS-B uplink commands for providing extended data such as weather data or NOTAMs
Provides SNMP, SSH, SFTP and web-based maintenance interfaces, supported on both the redundant surveillance LAN ports and a dedicated 1 GBit Maintenance LAN connection
Allows basic maintenance to be performed through the available serial maintenance port.
Multilateration & WAM systems
Multilateration is a field-proven certified technology, addressing some of today's most challenging surveillance scenarios, from the runways and taxiways of the world's busiest airports to remote mountain ranges.
FEATURES
Multilateration uses multiple (at least three) sensors to calculate the location and identification of an aircraft or vehicle-mounted transponder. Surveillance data output can be fused into an A-SMGCS or en route ATC radar display, or be displayed on its own. Multilateration works with standard Mode S and Mode A/C transponder equipment.
Airport Surface. Provides surface surveillance data for Advanced – Surface Movement Guidance & Control Systems (A-SMGCS) or Surface Management Systems such as Aerobahn.
Terminal & Wide Area. Provides surveillance in the approach, terminal or en route airspace, or provides surveillance where traditional radar is impractical due to terrain. These deployments are called Wide Area Multilateration (WAM).
Special Use Airspace (SUA). Provides surveillance of highly maneuverable, mixed vehicle traffic in restricted (e.g. military) airspace.

Test Transponders

Continuous verification of Integrity, accuracy, phase and azimuth alignment for the secondary surveillance radars.
Available Single or dual channel versions with automatic switchovers.
Operating in modes 3A, C and S
Fully solid state built in modular construction
Directional Antenna
Control vial LCD and network ready embedded web server.
Built in Test and Fault reporting.
Flight ID presentation.
Mode S features:

Level 3 data link
Enhanced Surveillance
Surveillance Identifier (SI) capability
Provides ability to set specific GICB registers such as Altitude, True Track Angle, Ground Speed and Magnetic Heading.

Fulfills ICAO recommendations' on Mode-S operation, Annex 10 (latest recommendations).